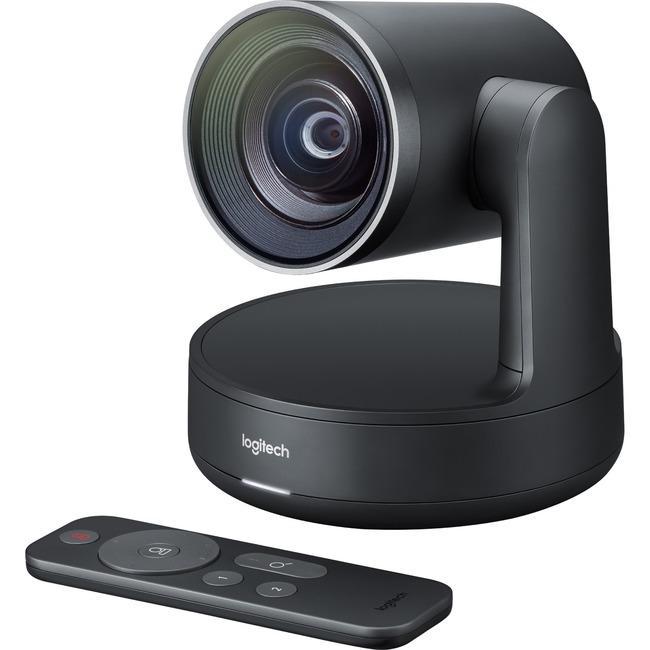 Ready to Ship
Peerless Performance. Exceptional Versatility.
With premium industrial design and an Ultra-HD imaging system, Rally Camera tops the lineup of standalone video cameras from Logitech®. Packed with advanced optics and breakthrough technologies, Rally Camera delivers premium performance in professional meeting spaces of all shapes and sizes. With whisper-quiet mechanical Pan/Tilt/Zoom, razor-sharp 15X HD zoom, expansive 90° field of view, and powerful 4K sensor, Rally Camera captures every person in the room with truly phenomenal video quality.
Studio-Quality Video
With an Ultra-HD imaging system, Rally Camera delivers brilliantly sharp video, outstanding color, and exceptional optical accuracy at resolutions up to 4K. Logitech RightLight™ technology optimizes light balance to emphasize faces and render natural-looking skin tones, even in dim or backlit conditions.
Sleek Industrial Design
Rally Camera incorporates world-class Logitech optics and 4K sensor in a premium industrial design suitable for any professional setting. Elegantly finished in matte black with slate gray metal trim, Rally Camera can be positioned on a table, mounted on a tripod, or secured to a wall with included hardware. For overhead installations, the camera detects when it's inverted and automatically corrects image orientation and camera controls.
See Everyone, Perfectly Framed

ogitech RightSight™ camera control automatically moves and adjusts the lens to comfortably frame meeting participants in rooms of all shapes and sizes.

Future Availability: RightSight will be enabled by a software download, with initial support for Windows 10.
Enhanced User Experience
Logitech RightSense™ is a suite of proactive technologies built into Rally Camera that automate a better user experience. RightSight™ automates camera control to perfectly frame participants, no matter their distance from the lens. RightLight™ optimizes light balance and prioritizes faces over objects and surfaces to render natural-looking skin tones. Plus, Rally Camera is compatible with virtually any video conferencing app right out of the box.
Privacy Assurance
When Rally Camera is not in use, the lens defaults to a parked position where the lens is pointed straight down. This provides visual affirmation that the camera is unable to "see" anything in the meeting space when idle. The lens lifts to a preset position when joining a meeting and parks automatically when the meeting ends. In addition, whenever video is muted during a meeting, a status light illuminates red to affirm visual privacy.
RightSense technology automates a better user experience
Advanced optics frame every participant with amazing clarity
Sleek industrial design for any professional meeting space
We partner with EdTech and Enterprise teams to bring them Chrome cloud solutions and tools they need to do more. That's "The CTL Advantage".
Our Chrome solutions free IT teams from endless admin through straightforward device ordering, provisioning shipping, deployment, repair, and recycling.
Fast Repairs
Get your Chrome OS devices back into action quicker with our 5-day guaranteed turn-around on repairs.

Free Google ZTE
We offer FREE Google Zero Touch Enrollment (ZTE) license provisioning for qualified purchases.

Free Shipping
We offer FREE domestic shipping on ctl.net orders over $99 and offline volume purchases of 100+ units.

Free RMA Shipping
CTL has you covered with FREE 2-way shipping for all in-warranty repairs.

Dedicated Account Manager
Qualified Education and Enterprise customers are supported by a single point of contact who is with you every step of the way.

Self-Service Repair & Easy Access to Parts
Enables qualified Education and Enterprise customers to improve IT department efficiency and schools to provide students with training, certification, and career development.

Device Buy-Back
Manage device lifecycle and recapture the value of end-of-life devices with our unique buy-back program.

Discounted Demo Devices
Get an evaluation CTL device for 60% off before making a bulk purchase.

CTL.net Orders are Climate Positive
We plant a native Mangrove tree for every ctl.net order on a dedicated plot of land in Madagascar. In addition to reducing carbon emissions, we're also combating poverty by creating jobs for local villagers. Every 100 trees planted creates one entire workday for a villager in need.


Online at CTL.net
Shop securely on CTL.net with easy returns and free shipping for domestic USA orders over $99.
Amazon.com and Walmart.com
Select CTL products are also available Amazon and Walmart.
Buy on Amazon | Buy on Walmart
Purchase Through a Dedicated CTL Account Manager
Customers who expect to purchase over $10,000 per year may wish to work with a dedicated CTL Account Manager. An account manager can work with customers to secure discounted pricing, purchase with POs, and request net terms. If plan on purchasing in volume, please let us know and we'll have an Account Manager get back to you.
Purchase CTL Products Through a Reseller
CTL products are available from resellers across the United States and around the world. Contact us to learn more.
Purchase CTL from a Distributor
CTL products are available from major distributors in the US, and globally. US distributors include: TD SYNNEX and Ingram Micro. Contact us for a full list of distributors around the world.
Volume or Quantity Purchasing
Customers wishing to purchase in volume may click on the floating 'Request a Quote' button to request quantity discounts. After requesting a quote, a CTL Account Representative will respond within 1 business day.
Public Sector Customers can Buy through Contracts
CTL products are available through a variety of public sector purchasing vehicles. Visit https://ctl.net/pages/government-naspo to learn more.
Every Order is Climate Positive
We plant a tree for every CTL.net order, reducing carbon and creating jobs. Learn more.

Take Back Services
CTL's electronics disposition and disposal services include removal/recycling of qualified CTL electronics equipment, including rechargeable batteries and packing. CTL allows customers to optionally keep the hard drives associated with the system that is de-installed. Equipment and packing are cleansed and recycled/disposed of according to EPA standards. Visit our Electronics Take Back page to learn more.

Rechargeable Battery Recycling
CTL offers stand-alone rechargeable no-cost rechargeable battery recycling services for customers in the US and Canada for all CTL products. CTL offers this service through a partnership with Call2Recycle. Call2Recycle has drop off locations within 10 miles of more than 87% of the US population. To find a location near you, visit https://www.call2recycle.org/locator.
Logitech Video Conferencing Camera - 13 Megapixel - 60 fps - Matte Black, Slate Gray - USB 3.0
Bulk Purchase?